Schools open in Lin-gang, easing burden on talent
The newly-built Hucheng Branch of Fangzhu Kindergarten at the junction of Hucheng Ring Road and Fangzhu Road in the Lin-gang Special Area welcomed 68 children on Sept 1, the parents of whom mostly work and live in Lin-gang.
Since the establishment of Lin-gang on Aug 20, 2020, eight schools have opened, three of which have already completed enrollment procedures.
More and more children are beginning school in Lin-gang, greatly easing the burden on parents working in the area.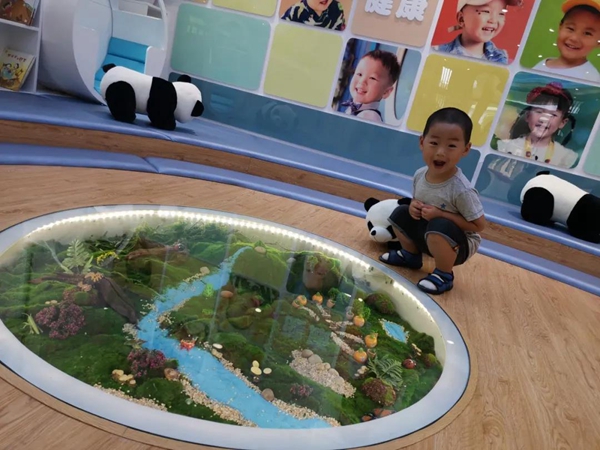 A child enjoys himself at kindergarten in Lin-gang Special Area. [Photo/WeChat account: shlgguanweihui]
There are currently a total of 47 schools in the Lin-gang industry and city integration zone (original Lingang area, Xiaoyangshan Island and the southern part of Shanghai Pudong International Airport). Among them are five universities, two Chinese-foreign jointly-run secondary colleges, one secondary vocational and technical school, four adult schools, and 35 independent schools for middle and primary school students.
Building a multi-tier, all-inclusive education system was listed as one of the goals in Lin-gang Special Area's "Five Important Elements" three-year action plan.
Lin-gang will encourage high-quality educational companies to set up branches of schools or cooperate in running schools in the area, as well as promote compulsory education in all schools and collectivization.
According to the Lin-gang Special Area Administration, two key functional projects of the senior high school department of Shanghai East High School and Lin-gang Youth Activity Center as well as 12 public supporting schools have been included in the plan, which will start construction in 2020.
By 2022, more public supporting schools will be built, and platforms such as Citizen Open University of Lingang will be set up to promote the construction and sharing of educational resources inside and outside of schools and communities, according to the three-year action plan.
Address

No 200 Shengang Avenue, Pudong New Area, Shanghai, China