New 'skyscraper building machine' unveiled at Lin-gang financial bay
An intelligent "skyscraper construction machine" was used for the first time at the construction site of an office building in the Dishui Lake Financial Bay in Shanghai's Lin-gang Special Area on May 8.
The machine is a three-story cage-shaped platform that allows workers to perform a variety of tasks related to scaffolding, binding of steel bars, pouring of concrete and wall installation. It also allows workers to work on different levels simultaneously.
Thanks to the machine, workers now need just four days instead of a week to complete a level. The machine has also lowered labor requirements by half.
The machine, which features a mist-spraying system that helps reduce air pollution, a bathroom, and sun shields, is expected to be used on more projects to improve efficiency and reduce costs.
The 21-story building, which will serve as the headquarters for leading financial firms, is set to be completed by late this year. The Dishui Lake Financial Bay is poised to become the city's third financial hub, following the Bund and the Lujiazui financial area.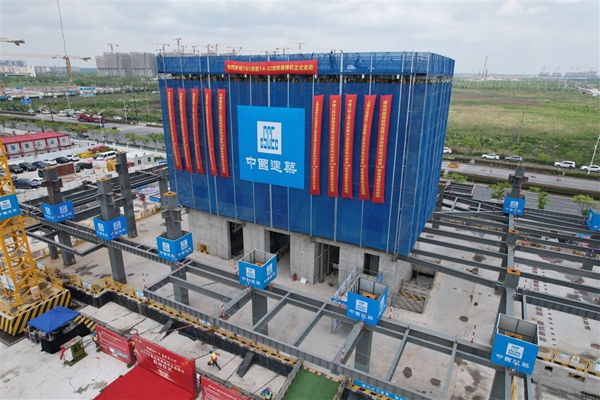 An intelligent "skyscraper construction machine" is put to use for the first time at the construction site of an office building in Lin-gang on May 8. [Photo/eastday.com]
Address

No 200 Shengang Avenue, Pudong New Area, Shanghai, China