Smart agriculture burgeons in Shanghai Flower Port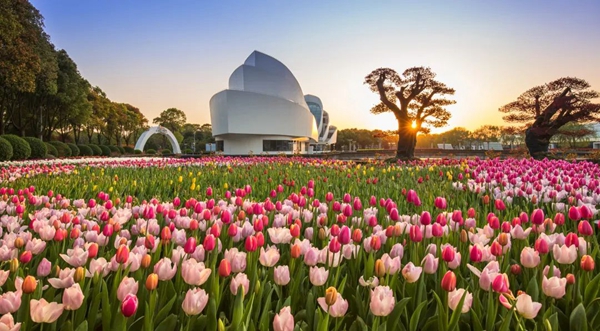 A field of wonderful flowers blossom in the Shanghai Flower Port. [Photo/WeChat ID: shlgguanweihui]
The Shanghai Flower Port in the Lin-gang Special Area – located in Shanghai in East China – has made itself China's premier park for tulip exhibitions with the help of intelligent technologies.
In contrast with the park's flower planting areas, which are teeming with tourists all year round, the seedling breeding base in its rear garden is quiet because most of the scientific experimentation is conducted by computer-control devices.
One member of staff called Xu explained how the operations system works to distribute seedlings before transplanting in the greenhouse.
All the seedlings in an anthodium seedbed are labeled as red, blue and green lattices on the screen. When a command is issued to a targeted lattice, the conveyor belt and robotic arm in the seedbed separates them.
In the past, staff could only handle at most 1,500 flower seedlings a day, Xu recalled. But now, thanks to the digital technology and mechanization, 15,000 seedlings can be separated daily.
In addition to the distribution of the seedlings, the intelligent technology also helps cut labor costs in the selection of seeds.
According to Xu, there were inevitable grading errors in manual selection in the past, but such errors are avoided now because there are more objective standards for selection, such for height, size and the amount of flowers.
A member of staff operates the computer-control devices to distribute the seedlings. [Photo/WeChat ID: shlgguanweihui]
Those flowers that meet the standards are captured by camera and then distributed for sale.
Cutting-edge technologies used in the base also include tidal irrigation technology, energy-efficient semi enclosed greenhouses and automatic cultivation systems.
After years of effort, the Shanghai Flower Port has developed 32 new flower varieties with independent intellectual property rights.
The park is also home to a pineapple seedlings research and development center, which cultivates three to five new varieties every year. About 80 percent of the world's pineapple seedlings come from the center.

Flowers are planted in the greenhouse in the Shanghai Flower Port. [Photo/WeChat ID: shlgguanweihui]
Address

No 200 Shengang Avenue, Pudong New Area, Shanghai, China