World's first, as intelligent engine for ship delivered in Lin-gang
The CMD-WinGD 7X62DF-2.1 iCER engine, the latest generation dual fuel main engine for a ship, developed by CSSC Marine Power Co Ltd – a unit of China State Shipbuilding Corporation – was delivered on June 3 to company CSSC-MES Diesel Co Ltd.

The company is located in the Lin-gang Special Area, in East China's Shanghai and the 7X62DF-2.1 engine is the latest dual fuel main engine with an intelligent control for exhaust recycling, also known as an iCER system.
The engine is said to be the first of its kind in the world, with a maximum continuous power of 15,400 kilowatts.
It will be installed as the main propulsion unit on a liquefied natural gas, or LNG, dual fuel powered vessel – designed to carry up to 7,000 trucks at a time – that is being built by China Merchants Jinling Shipyard Co Ltd for Japanese shipping company NYK Line.
The iCER system is said to help substantially reduce emissions of greenhouse gases produced by marine engines.
Its biggest advantage is that by automatically tracking and dynamically adjusting the air-gas ratio through specific algorithms, methane escape in gas mode can be reduced by 50 percent and greenhouse gas emissions can be reduced by more than 28 percent.
It is understood that the dual fuel engine with the iCER system will have wider applications. It can be installed not only on large vehicle carriers, but also on large LNG carriers and super large container ships.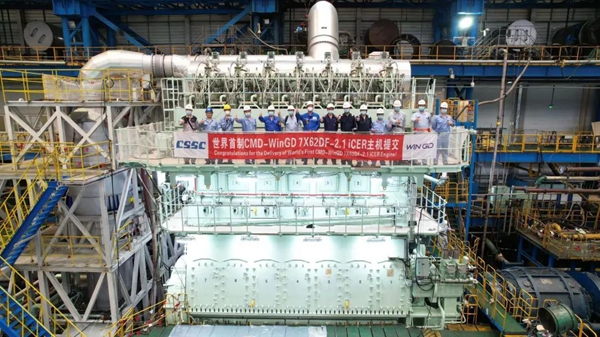 The CMD-WinGD 7X62DF-2.1 iCER engine is delivered on June 3 to CSSC-MES Diesel Co Ltd, based in the Lin-gang Special Area. [Photo by Zhou Yifeng/WeChat ID: shlgguanweihui]
Address

No 200 Shengang Avenue, Pudong New Area, Shanghai, China