Advanced container ship sails into Yangshan Port
The world's first dual-fuel methanol-powered container ship recently completed its maiden voyage to Yangshan Port in East China's Shanghai, marking a significant milestone in green shipping.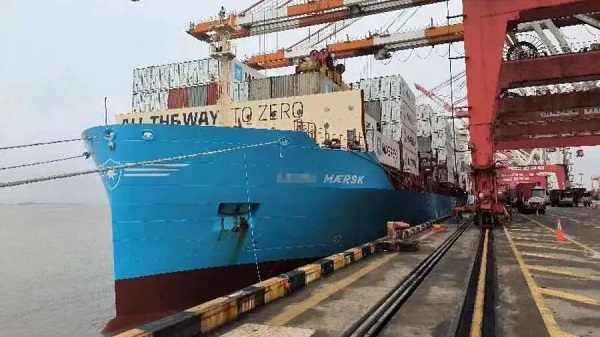 The world's first dual-fuel methanol-powered container ship settles into its berth at Yangshan Port. [Photo/WeChat ID: shlgguanweihui]
The vessel, owned by giant Danish container shipping line Maersk, is the first of its kind to use carbon-neutral methanol as fuel. With an overall length of 172 meters and a loading capacity of 2,000 TEUs, or twenty-foot equivalent units – the standard container measurement – it represents a major step towards sustainable shipping practices.
Methanol, a clean energy source with low carbon emissions, offers several advantages over traditional marine fuels. It is free of nitrogen oxides and sulfur and emits lower levels of particulate matter. Additionally, methanol can be stored at room temperature, making it a convenient and environmentally friendly choice of fuel.
To ensure the safety and compliance of the methanol-powered ship, the Yangshan Port Maritime Safety Administration conducted a joint inspection with Maersk.
The inspection focused on various aspects – including the methanol power system, alarm system, fire extinguishing system, leakage detection system, ventilation system and the crew's operational capabilities.
Special attention was paid to the methanol fuel supply system, including storage cabinets and the main and auxiliary engine's fuel supply systems.
This development comes as the international shipping industry accelerates its green transformation. The International Maritime Organization has adopted a new global greenhouse gas emissions reduction strategy, aiming to achieve net-zero emissions before and after 2050.
Address

No 200 Shengang Avenue, Pudong New Area, Shanghai, China