Lin-gang opens labor, personnel service center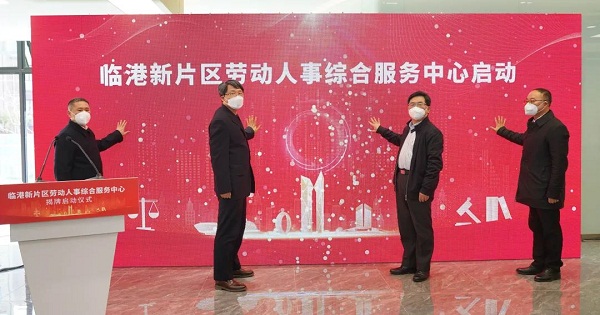 The Lin-gang Special Area Labor Disputes Comprehensive Service Center opens on Dec 20. [Photo/WeChat ID: shlgguanweihui]
The opening ceremony for the new Labor and Personnel Comprehensive Service Center was held on Dec 20 in the Lin-gang Special Area, which is located in East China's Shanghai city.
An exterior view of the new center. [Photo/WeChat ID: shlgguanweihui]
A number of labor and personnel service institutions and projects – such as the Pudong New Area Employment Guidance Service Station and the Pudong's Labor Dispute Circuit Court – were launched in the center during the event.
What's more, a raft of labor and personnel service professionals – including mediators, public interest lawyers, employment guidance workers, multilingual service volunteers and arbitrators – were hired as the professional services workforce of the service center.
They will be tasked with providing an intensive and efficient one-stop labor and personnel services platform for "mediation, arbitration and trials".
The personnel are expected to integrate and provide comprehensive services such as conflict mediation and employment and entrepreneurship guidance.
During the opening ceremony, the first arbitration circuit court for the Shanghai Labor and Personnel Disputes Arbitration Court was unveiled.
It will provide labor and personnel dispute arbitration services for foreign-funded enterprises and their employees with a registered capital of over $10 million – or the equivalent of over $10 million – established in the Lin-gang Special Area.
Address

No 200 Shengang Avenue, Pudong New Area, Shanghai, China