Shanghai's Lin-gang eases homebuying curbs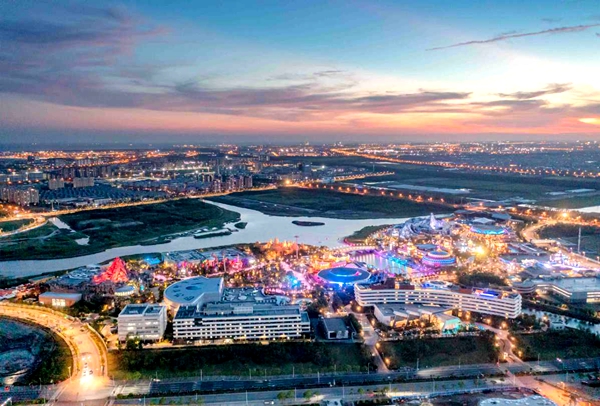 A view of Lin-gang Special Area of China (Shanghai) Pilot Free Trade Zone. LIU GUOXING/FOR CHINA DAILY
Shanghai has joined prominent Chinese cities to partially ease restrictions on home purchases.
The move will benefit talented professionals in the city's Lin-gang Special Area, and suggests that more cities are fine-tuning their residential property policies to support rational demand, industry experts said on Thursday.
Nonlocal talent who have worked at Lin-gang Special Area of China (Shanghai) Pilot Free Trade Zone for a minimum of three months are now allowed to buy homes in this specific area. The previous requirement was at least one year, the official WeChat account of Lin-gang Special Area's administrative committee announced on Tuesday.
Professionals working at 195 enterprises for more than three months are now eligible to buy a residential property in the area, and those working at another 29 companies for half a year are qualified to buy a flat, the notice stated.
Affected by the resurgence of COVID-19, only 433 new residential properties were traded in Lingang in March, a sharp drop from 2,051 units sold in January and 1,651 in February, said Shu Duan, a senior analyst at the China Index Academy.
Housing supply in Lin-gang, which is located at the southeastern tip of Shanghai, will reach 120,000 units in the coming five years, about 30 percent of Shanghai's total supply of new homes, according to Lin-gang Special Area's plan for the 14th Five-Year Plan period (2021-25), Shu said.
The central government has made it clear that the property market should develop in a healthy way, form a virtuous circle and meet the rational living needs of the people.
But, the recent COVID-19 outbreak has weakened market expectations. So, it is necessary for Lin-gang, which is not considered downtown nor part of Shanghai's central business district, to adjust its policies to restore demand-supply balance in the region, said Li Yujia, chief researcher at the provincial residential policy research center of Guangdong.
"Shanghai's residential property market is currently under mounting pressure because of COVID-19, and the relaxation of policy for talented professionals will likely improve market expectations and shore up confidence," said Yan Yuejin, director of the Shanghai-based E-house China Research and Development Institution.
In recent months, a number of prominent cities, including Jiangsu province's Nanjing and Suzhou, have tweaked their property policies to promote rational homebuying.
This month alone, at least 15 cities have relaxed their homebuying regulations, according to Securities Times. Such measures included loosening purchase restrictions, loan limits and sales curbs, lending support to provident fund loans and adjusting mortgage interest rates.
On Monday, Suzhou eased its restrictions on both sales and purchases. On Tuesday, Nanjing's Lishui and Liuhe districts relaxed their purchase restrictions by allowing nonlocal residents to buy their first home without providing proof of social security.
On Wednesday, Anhui province's Huaibei announced that first-time individual homebuyers and families will receive a maximum 60,000 yuan as a reward during the city's Spring home exhibition between April 30 and May 4, Guandian.cn reported.
Li said he believes more cities' peripheral areas will follow suit. But, while fine-tuning local policies, the authorities concerned should preempt wild market swings in either direction.
Address

No 200 Shengang Avenue, Pudong New Area, Shanghai, China