Lin-gang Special Area a beacon for global business development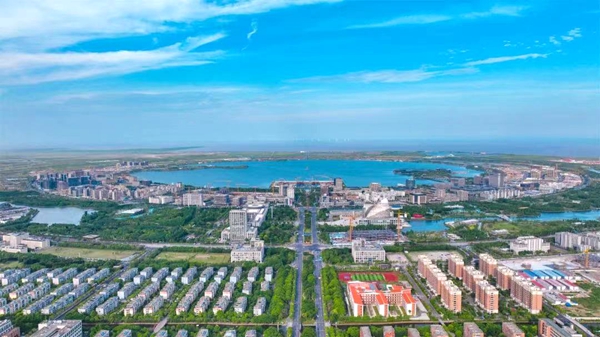 Lin-gang Special Area is committed to creating a world-class business environment and industrial system to help global enterprises achieve higher development goals during the 14th Five-Year Plan (2021-25) period. [Photo/WeChat ID: lgqyfwj]
Favorable policies and reforms in region spur strong growth for array of industries
Global enterprises are showing strong confidence in their business development in the 119.5-square-kilometer Lin-gang Special Area of the China (Shanghai) Pilot Free Trade Zone. This confidence is down to the area's long-term commitment to promoting reform and opening-up, advancing the development of key industries and boosting premium government services.
According to Xie Weidong, president of Lenze Asia and general manager of Lenze China, when the Germany-based automation and drive system developer set up its wholly-owned subsidiary Lenze Drive Systems (Shanghai) along with a logistics center in Lin-gang area in 2007, it did not expect the area to develop so quickly. However, its growth has exceeded all expectations after the region became part of the Shanghai FTZ, in 2019.
From a "barren" land with nothing except for a series of development policies to the home of a large number of companies, the transformation of Lin-gang has fulfilled the local authorities' commitment of providing all-round and high-level opening-up in deeper and wider fields, Xie said.
"Lenze also considered Suzhou in Jiangsu province and Dongguan in Guangdong province as locations for the subsidiary at the beginning, but finally chose Lin-gang because of the industrial advantages of Shanghai and the Yangtze River Delta region in manufacturing," said Xie.
Also, the group held high expectations for the business and policy environment of Shanghai as a major economic metropolis, he added.
During the past three years, Lenze Drive Systems in Lin-gang has reported rocketing development in marketing and business operation.
In 2019, the company's after-tax turnover was 500 million yuan ($72.55 million). The figure increased to 850 million yuan in 2021. "By the end of this year, our after-tax turnover is expected to reach 1 billion yuan," Xie said.
He also noted that profits for the company have also quadrupled during the past three years.
To better respond to changing market demand, Lenze has been increasing its investment in Lin-gang in recent years.
This year, Lenze Drive Systems has established a new production line of high-end servo motors, with a total investment of 70 million yuan. The company also plans to start its third-phase expansion project in 2023 or 2024, which will include another advanced production line and a fully-automated stereoscopic warehouse.
"All these moves are part of our new Strategy 2025, which is to build China into a new engine for Lenze Group's global expansion," Xie said.
In fact, the group initially enhanced the importance of the Lin-gang subsidiary in 2012 when it finished the second-phase expansion project and became the group's second largest manufacturing, logistics and sales center worldwide.
During the process, Xie said the company has been provided with diverse and effective services by the Lin-gang management committee.
"Lin-gang has offered more preferential policies in terms of investment, research and the settlement of human resources. We are also very satisfied with its follow-up supportive measures after we finished investment here," he noted.
For example, Lin-gang sent a working team to help review materials and make suggestions to Lenze Drive Systems when it applied to set up a headquarters for the group's Asia-Pacific region. It also helped the company communicate with related authorities in Pudong New Area to better push forward the schedule.
"Generally, the application of a regional headquarters will take a year, but we completed it in just three months, thanks to the effective guidance and quick problem response mechanism of Lin-gang," Xie said.
Lenze is not the only enterprise in the area that gives the thumbs-up to the local government.
GalaxyCore Semiconductor (Shanghai) Limited, a subsidiary of GalaxyCore, is constructing a 12-inch wafer manufacturing line with a total investment of 15.5 billion yuan in Lin-gang. The project will help the company accelerate high-end product development and shift its business model from fabless to fab-lite. Fabless manufacturing is the design and sale of semiconductor chips while outsourcing the fabrication (or "fab") of the devices to a specialized manufacturer called a semiconductor foundry. Fab-lite means a company will have its own fabs for certain chips.
"The integrated circuits industry is one of Shanghai's key sectors. Lin-gang is a hub for excellent IC industry players and has a complete industrial chain," said Guo Xiuyun, chief financial officer and board secretary of GalaxyCore. "We see major synergies between our development goals and Lin-gang's IC industry development goals."
Guo said the Lin-gang Special Area provided strong support to help GalaxyCore accelerate construction. Trial production will start in the third quarter of this year.
Win-win cooperation
Cytiva, formerly known as GE Healthcare Life Sciences, identified the government departments in Lin-gang as one of its most important partners in China, saying they play a vital role in supporting its development in the country.
"It's definitely a win-win relationship," said Yu Lihua, general manager of Cytiva China. "In addition to supervising the market and ensuring its orders, they are always ready to give us a hand when we encounter any problem.At the same time, we are always cooperative, keeping aligned with their development goals, and expanding our investment to build an ecosystem for the biopharma industry."
Yu also praised Lin-gang's supportive policies and close collaboration between government officials and enterprises.
"The number of officials who have expertise in biomedical innovation is increasing, and that gives the industry more confidence in the future," Yu said. "Many companies like Cytiva are determined to invest more in research and development, talent development and manufacturing in China."
Cytiva will look to invest in Lin-gang in fields such as innovation and talent training to further seize business opportunities in China, according to Yu.
"We will expand our Fast Trak center in Shanghai. The new center will be home to our largest biotech training facility in Asia, capable of training 2,000 people every year. Meanwhile, it will continue its R&D services to accelerate bioprocessing, cell and gene therapy development and manufacturing, as well as validation services for single-use technologies in the industry."
Over the last few years, Cytiva reported stable operation in Shanghai despite uncertainties in the global market caused by COVID-19.
"Shanghai's opening-up policies, strong pandemic prevention measures, and solid economic growth have given us a great advantage, allowing us to achieve rapid development and high growth in the past few years," Yu said. "Shanghai has one of the best business environments in China and is extremely resilient to risk.We have been able to collaborate with the local government to navigate through uncertainties."
A promising land
Despite market uncertainties and the impact of the pandemic, the special area, which celebrated its third anniversary in August, has managed to meet the goals set three years ago.
According to Chen Jinshan, director of the Lin-gang Special Area Administration, the area has made breakthroughs in promoting institutional innovation and higher-level opening-up since it became part of the Shanghai FTZ.The 78 reform tasks specified by the State Council in 2019 covering fields such as finance, tax and talent service are almost accomplished. For instance, Europe's major asset management company Amundi set up a foreign-controlled wealth management joint venture in Lin-gang by teaming up with Bank of China Wealth Management in 2019, marking the first of its kind in China.
The region also achieved outstanding results in building a modern industrial system with strong competitiveness in the global market. More than 300 frontier technology projects, covering fields such as artificial intelligence, biomedicine and IC, with a total investment of more than 420 billion yuan, have been launched in the region.
According to Zhang Hongtao, chief engineer of the Shanghai Commission of Economy and Informatization, seven out of 53 characteristic industrial clusters of Shanghai, recognized by the Shanghai government, are in Lin-gang. They are serving sectors such as IC, maritime economy and civil aviation.
Over the last three years, the average annual GDP of the special area increased by 21.3 percent despite uncertainties in the global market. The output value of industrial enterprises above a designated size-those with an annual income of more than 20 million yuan-increased 40.2 percent year-on-year. The Yangshan Special Comprehensive Bonded Zone reported an average annual trade volume growth rate of 28 percent.By the end of July, Lin-gang was home to 2,604 foreign companies, which is more than double the number from when Lin-gang was included in the Shanghai FTZ three years ago.
The Lin-gang Special Area is heading toward a brighter future with more supportive measures.In August, the Shanghai government released 23 new measures to make the area "an independent and comprehensive hub" in China's coastal region.
Those new measures highlight industries such as artificial intelligence, integrated circuits, biomedicine, cross-border data flow and bonded maintenance. More policies will be introduced to allow the free flow of talent and provide more convenience to professionals.
Lin-gang is set to become home to more than 1,000 high-tech companies, of which at least 10 should be listed on the technology-heavy STAR Market on the Shanghai bourse by 2025. More than 100 company-sponsored R&D institutions will be set up in Lin-gang by 2025, with another eight internationally first-rate laboratories operating in the area.
The Yangshan Special Comprehensive Bonded Area will be built into a free trade industrial park with higher international influence and stronger competitiveness.
By 2025, the total industrial output of companies above designated size will reach 500 billion yuan, with an average annual growth rate of 25 percent. The industrial clusters of new energy vehicles, IC and high-end equipment, each with an annual industrial output of more than 100 billion yuan, will be established.The special area will be home to 500 artificial intelligence companies with annual industrial output of more than 50 billion yuan.
Address

No 200 Shengang Avenue, Pudong New Area, Shanghai, China