Lin-gang promotes platinum group metals industry
The Lin-gang Special Area sets up a platinum technology center. [Photo/WeChat ID: shlgguanweihui]
The Lin-gang Special Area, located in East China's Shanghai, on Sept 2 opened a technology center focused on platinum group metals, or PGMs – which comprise platinum, ruthenium, rhodium, palladium, osmium and iridium.
PGMs are widely known to play a vital part in our daily lives. They are, for instance, used in catalytic converters that reduce the pollution emitted by conventional cars and trucks. PGMs are also used in hydrogen production, in fuel cells for electric vehicles, in fine jewelry and in anti-cancer drugs.
The center will bring together research, venture funding, industrial park facilities and an offshore trading market.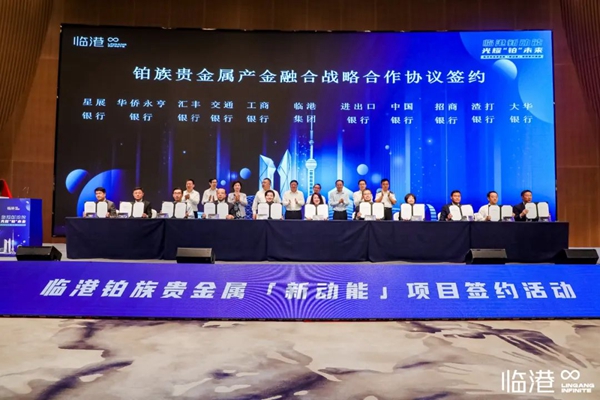 Ten financial institutions, including the Export-import Bank of China and the Bank of China, sign up on Sept 2 with the Lingang Group to build a facility for trading and financing PGMs. [Photo/WeChat ID: shlgguanweihui]
Nearly 70 leading institutions and companies, spanning various sectors of the PGMs industry, have signed up to move to an industrial cluster that will be developed at the new center.
Corollary interests – including the legal, financial and insurance sectors – have agreed to set up what is called the Lin-gang Trade Cross-border Communication group, to provide support services for international traders of PGMs there.
The World Platinum Investment Council has also announced it will move its Asia-Pacific headquarters to Lin-gang, where its flagship annual event – Shanghai Platinum Week – will be hosted.
Shanghai Lingang Platinum Group Metals Technology Co Ltd is inaugurated on Sept 2. [Photo/WeChat ID: shlgguanweihui]
Address

No 200 Shengang Avenue, Pudong New Area, Shanghai, China