Shanghai Construction Group sets up subsidiary in Lin-gang Special Area
The Shanghai Construction Group, or SCG, a flagship of China's building industry, on July 12 officially launched its subsidiary SCG Intelligent Construction Company – to be located in the Lin-gang Special Area, in East China's Shanghai city – with a registered capital of 500 million yuan ($74.14 million).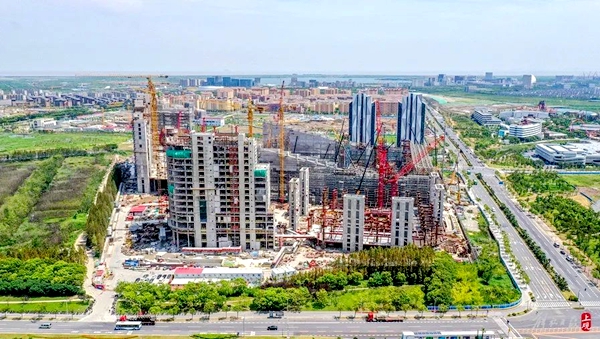 SCG Intelligent Construction Company is currently under construction in the Lin-gang Special Area. [Photo/Shanghai Observer]
The SCG Intelligent Construction Company will provide services such as building construction and investment in real estate for major municipal projects in Shanghai and in other key regions.
Established in 2019, the Lin-gang Special Area is developing rapidly. It has already attracted a raft of businesses to settle there and has become a springboard for corporate residents to expand their business.
For example, the permanent site for the World Laureates Forum – a future landmark of Lin-gang that is currently under construction – is expected to provide a model for the integration of digital and green transformation.
The SCG Intelligent Construction Company represents a strategic move by Shanghai Construction Group at digital transformation and the full-life cycle services. The company plans to integrate digital technology, focus on the application of energy-saving technology and integrate intelligent regulatory systems into its construction.
Shanghai Construction Group has already established 11 enterprises in the Lin-gang Special Area, with a total registered capital of over 11.4 billion yuan. It currently has 185 projects under construction, with total contracts valued at 80.6 billion yuan to date.
In the first half of the year, Shanghai Construction Group completed new contract orders worth 14.5 billion yuan, despite the challenges and pressures resulting from the COVID-19 pandemic.
Address

No 200 Shengang Avenue, Pudong New Area, Shanghai, China