Companies galvanized by new Lin-gang policies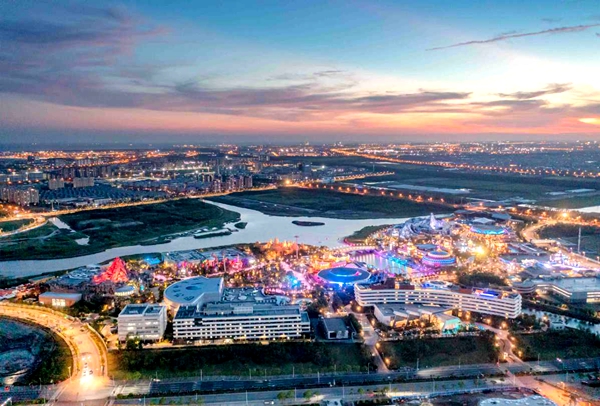 A wide view of the Lin-gang Special Area of the China (Shanghai) Pilot Free Trade Zone. [Photo by Liu Guoxing for CHINA DAILY]
The Lin-gang Special Area – located in East China's Shanghai – recently launched a raft of policies and preferential measures that are designed to support the high-quality development of its resident businesses
One beneficiary has been Cix Science & Technology Co Ltd, which plans to invest in the development of general intelligent computing systems and has strong technical experience and resources.
During the COVID-19 pandemic, the company successfully raised hundreds of millions of yuan. However, in that the fundraising and issuing of shares could not be completed online, the company was unable to finalize the equity registration. As a result, it was faced with a broken capital chain and couldn't pay hundreds of employees – seriously affecting its research and development.
At that critical moment, the Lin-gang Special Area Administration for Market Regulation stepped in and set up a special fact-track processing channel for the company. As a result, the issuance of a new business license was completed in only one working day, helping the enterprise complete the pre-A round of financing.
Another beneficiary was Letry Cleaning Technology Co Ltd, which specializes in the development and production of semi-conductors, TFTs – or thyroid function blood tests – solar energy products and pharmaceutical product lines, among other things.
With the resumption of work and production policy announced, the company prepared to return to operations but was faced with a funding gap due to the sudden COVID-19 outbreak.
Thanks to the Lin-gang Special Area and its new policies and measures, the company efficiently received new loans for its resumption.
Responding to Lin-gang's new policies and measures, Shanghai Lin-gang Microfinance Co Ltd has distributed a total of 36.75 million yuan ($5.51 million) in loan funds from April to May, supporting high-end manufacturing, integrated circuits and biomedicine companies in Lin-gang.
Address

No 200 Shengang Avenue, Pudong New Area, Shanghai, China