Lin-gang Special Area develops its digital twin city
A "digital twin" city that is highly consistent and interactive with the real world recently began being mapped online in the Lin-gang Special Area, located in East China's Shanghai city.

It is China's first urban digital twin project, which will have systematic and comprehensive coverage of areas including the economy, living and governance.
Digital twinning is the digital representation of a physical entity or system. Elements of the real city are mapped one-to-one in the digital twin city and run simultaneously.
The technology has been applied in the construction of the permanent site of the World Laureates Forum, or WLF, whose main structure was completed last October.
Before starting construction, the whole building and construction plans were modeled and simulated on computer. As a result, the contractors could observe and deduce things from the "virtual site" at the drawing stage, to find problems and eliminate hidden dangers.
From starting construction to lifting of the roof grid, the project took just over six months – usually similar projects generally need two years.
During the busiest period of the construction, more than 20 tower cranes were in operation simultaneously on-site, but the site remained busy without chaos.
The Shanghai Astronomy Museum, an important landmark in Lin-gang, is also actively planning a digital twin. People will be able to visit the digital astronomy museum without even leaving home in the future.
The technology will be used in more projects – such as the proposed digital talent harbor in the future – with the goal of basically completing the overall structure of the Lin-gang digital twin city by 2025.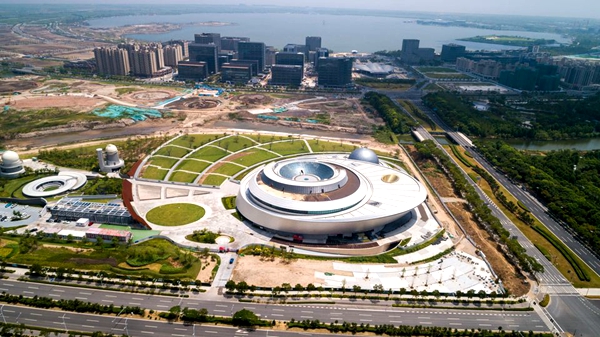 An aerial view of the Lin-gang Special Area. [Photo/IC]
Address

No 200 Shengang Avenue, Pudong New Area, Shanghai, China