More new hydrogen buses ready to start operating in Lin-gang
A fleet of 16 hydrogen-fueled buses was delivered on Feb 28 to the operator, the Lin-gang Public Transportation Group.
With the drivers trained well ahead of time and the buses having been fully decorated, the buses are ready to start operations immediately in the Lin-gang Special Area, located in East China's Shanghai city.
The 16 buses will serve the Lin-gang No 5, No 6 and No 7 routes, as well as the Dishui Lake Sightseeing routes.
Lin-gang No 5 is a downtown loop bus route, which passes Yihaooujing community, office buildings around Dishui Lake, Shanghai East High School, the China Maritime Museum and the Shanghai Sixth People's Hospital (Lin-gang).
Lin-gang No 6 route is a line connecting Dongfangyicheng community to Shuyuan metro station.
The Lin-gang No 6 route, the first line to be equipped with hydrogen buses, is said to have eased the Lingang Industrial Area's commuting stress during rush hours and has also met the day-to-day needs of the residents in the Land of Wonder community.
The Dishui Lake Sightseeing route is free for visitors, to take in all the views around Dishui Lake.
The Lin-gang Public Transportation Group plans to introduce 102 hydrogen-fueled vehicles in all. Of these, 52 buses will replace old buses, while the other 50 will serve downtown, Luchao Port and Nicheng town.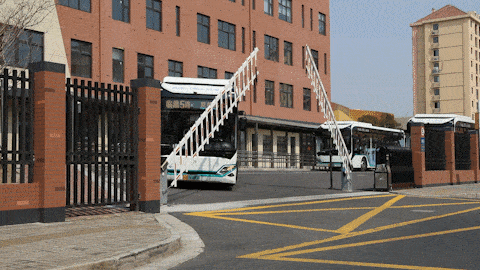 A hydrogen-fueled bus pulls out, in the Lin-gang Special Area. [Photo/WeChat account: shlgguanweihui]
Address

No 200 Shengang Avenue, Pudong New Area, Shanghai, China