Haigang Avenue looks forward to new look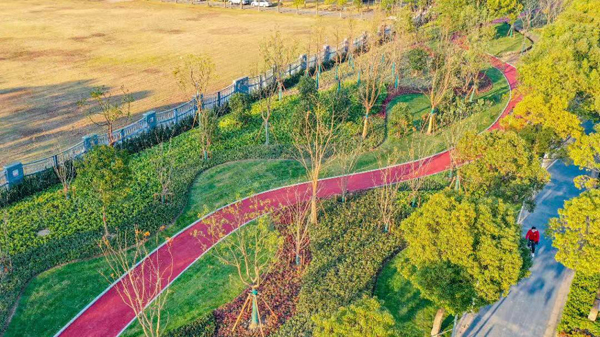 The S2-Huanhuyi Road section of the Haigang Avenue, after renovation and upgrading, welcomes passersby with a new appearance. [Photo/WeChat account: shlgguanweihui]
The 700-meter-long S2-Huanhuyi Road section of the Haigang Avenue – located at the south gate of Shanghai Maritime University in Lin-gang Special Area in East China's Shanghai city – recently welcomed passersby with a new appearance.
After two months of renovation and upgrading, the section is now decorated with lush trees, vivid grasslands, and various flowers making a display for the renovation project of the rest of the Haigang Avenue.
"The greenbelt landscape of Haigang Avenue lacked uniqueness. Plants were planted chaotically," said Han Mengmeng, project manager of the demonstration section.
According to Han, in the demonstration section, the project team tried to create a greenbelt made up of evergreen plants and blooming flowers in all seasons. They decided to plant trees with colored leaves such as Chinese fir and tallow trees, flowering shrubs such as red plum and cherry blossoms, and some ground covers.
In addition to the afforest upgrading, a number of new public chairs were added along the greenbelt. The chairs have a wavy shape to match the typical character of the Shanghai Maritime University, Han added.
Address

No 200 Shengang Avenue, Pudong New Area, Shanghai, China