Slew of Lin-gang projects set to upgrade public transport
Shanghai's Lin-gang Special Area held a groundbreaking ceremony on Dec 20 for slew of construction projects that will upgrade the zone's transportation system.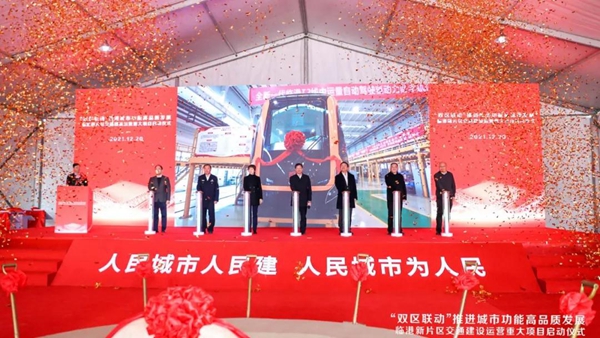 The Lin-gang Special Area holds a groundbreaking ceremony on Dec 20. [Photo/WeChat account: shlgguanweihui]
According to its action plan for the next 15 years (2021-35), Lin-gang is projected to build itself up as an area with vast transport infrastructure.
By 2025, the Lin-gang industry and city integration zone will construct a new 110 kilometer-long backbone network of roads, while dedicated thoroughfares for medium-volume buses – with a larger passenger capacity than a normal bus – will add another 50 km. Moreover, the coverage rate of bus stops every 500 meters in the main urban area will reach more than 80 percent.
In addition, the area will also promote eco-friendly transportation – more public transport vehicles will use clean energy and 1,500 hydrogen-fueled vehicles will be used.
Sixteen hydrogen-fueled buses have started operations there since the groundbreaking ceremony. Six of them have been in trial operation and the other 10 will be used in the Lin-gang No 5 and 6 routes and on a sightseeing route.
With the addition of more routes and customized shuttle buses, another 102 hydrogen buses will be added next year.
The area is also promoting the construction of hydrogen fueling stations, with five stations scheduled to be in operation by the end of next year.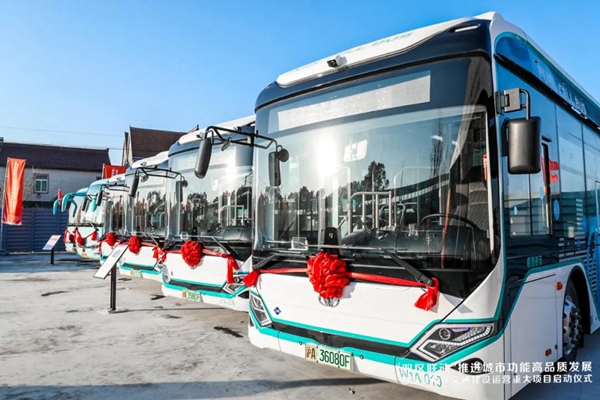 Sixteen hydrogen-fueled buses start operating in Lin-gang on Dec 20. [Photo/WeChat account: shlgguanweihui]
A new generation of medium-volume self-driving hydrogen-fueled tram cars for the Lin-gang T2 tramline also rolled off the production line at the ceremony.
The tram cars are equipped with two hydrogen power systems and have a range of 100 km per tank. It takes about 15 minutes to fill them up with hydrogen.
Another two medium-volume bus routes will start operating in 2022. The T2 and T6 routes will both use hydrogen-fueled vehicles.
By 2022, it is estimated that 23 medium-volume vehicles that are operating in Lin-gang will be powered by hydrogen.
Other projects – such as the construction of X2 new parking lots in the main urban area, the operation of sightseeing buses and taxis – were also launched on the same day.
Address

No 200 Shengang Avenue, Pudong New Area, Shanghai, China