Reforms of permits, licenses galvanize Shanghai businesses
A significant increase in individual businesses and registered capital has been seen since Shanghai implemented reforms for separating operating permits from business licenses, according to Chen Yin, Shanghai executive vice mayor, speaking at a news conference on June 3.
Chen said East China's Shanghai currently had around 3.03 million various types of business entities with registered capital of about 29.5 trillion yuan ($4.6 trillion) - up 13.3 percent and 15.3 percent, respectively, from the level in late November in 2019 before the reforms were implemented.
The Pudong New Area in Shanghai launched a pilot program that combined multiple licenses into one single permit in July 2019.
The State Council - China's Cabinet - approved the district's license reform plan in November 2020, which expanded the number of industries covered to 31 and extended the legal validity of the license nationwide. The reform reportedly enabled companies to do business anywhere in China with one single license from the Pudong New Area.
It is expected that the reforms will eliminate redundancy, change certain approval procedures for record keeping and establish a system for businesses to more easily get the necessary notifications.
With the citywide implementation of the reforms, businesses can now carry out commercial activities in every city district.
Chen said the reforms had further stimulated the vitality of businesses.
"It has removed and relaxed the restrictions for entering a number of industries and eased the burden of businesses in operation, stirring their initiative in business activities," he said.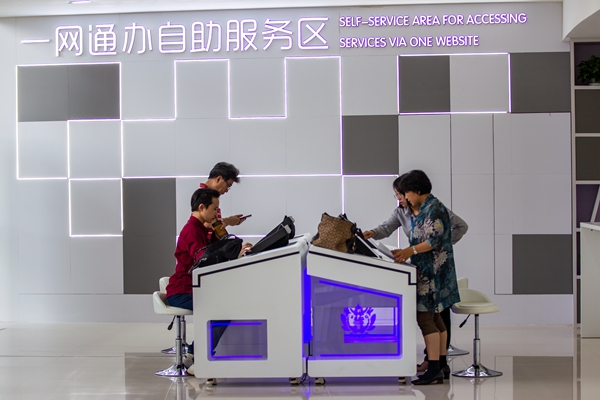 People are busy at a self-service area for accessing services online, in the Lin-gang Special Area. [Photo/IC]
As an example, the number of fire protection technology service enterprises registered in the Lin-gang Special Area of the China (Shanghai) Pilot Free Trade Zone - in Shanghai - surged to 104 after a qualification review and approval procedure on fire protection technology service agencies was lifted, from the previous 21 items that had to be carried out before the reform.
Materials reviews and approvals on some affairs were lifted outright or replaced by registrations or self-undertakings after the reform, reportedly resulting in significant reductions in red tape.
More than 70 percent of enterprises in the city have obtained business licenses via the notification and self-undertaking mechanism implemented in 2018, significantly improving government efficiency, according to Chen.
At the same time, it is understood that companies with low credibility and high risks will face stricter supervision and management.
A technological approach has been undertaken to make things more convenient for business operations, Chen said.
To date, Shanghai has established an e-license database covering about 140 million licenses of more than 600 types, enabling exemptions for submissions of 96 percent of materials previously issued by government authorities.
The mechanism also merges a wide number of matters and allows online applications and handling for business operations-related affairs.
For example, six categories of affairs – including food operations and retail tobacco permits, involving a number of government departments - were required in the past to open convenience stores in the city.
Under the mechanism, multiple affairs were merged and are now handled online, cutting the handling time to five working days from the previous 38 days.
The number of forms required was also cut to 10 from 53, improving efficiency.
"The city will further deepen the reforms and take a digital transformation approach to empower the reforms," Chen said.
"The number of materials from applicants will be further cut or exempted and the target is to make business applications as convenient as online shopping," he added.
At the same time, the municipal authorities would improve supervision and management efficiency and safeguard the safety bottom line of businesses, Chen said.
Address

No 200 Shengang Avenue, Pudong New Area, Shanghai, China